The National Day of Albanians will be dressed like every year with red and black colors in Albania and wherever Albanians live. Albanians in Albania and abroad, strangers and curious visitors, besides the numerous activities that are expected to take place in Tirana, can also be part of an exhibition of the symbol of the nation, the flag, to be opened at the premises of the National Historical Museum on November 28th. Undoubtedly this will be the most complete exhibition in all Albanian lands with this theme. 50 flags of albanians, of different periods and provinces, will be presented at the stands of this exhibition, which opens at 11 am. The exhibition will feature 40 flags, owned by the Nationwide Center of Albanian Collectors (NCAC) and 10 flags deposited in the funds of the National Historical Museum.
This next exhibition of the NCAC comes as a collaboration with the National History Museum to bring a full, rich and undoubtedly fascinating exhibit.
Visitors to this event will find precious chunks of our national history. There are 50 national flags, 40 of them owned by the NCAC's, from Aleandro Kastrioti 1906 to 1944, guarded by the Sala and Toptani family. This collection of the Nationwide Center of Albanian Collectors was launched with the flag embroidered in 1919 by the patriotic's wife Sali Sala, flag which is inherited generations after generation. The most rare in this collection is the flag-emblem of the club "Albanian Language" in Shkodra, 1910, which was designed by Kel Marubi. This flag is of great historical value because in Albania there are a total of 2 unique flags-emblems: the flag of the "Dëshira" Society, which was realized by Polikseni Luarasi in 1892 and the flag of the "Language Shqipe" club of 1910, realised by Kel Marubi, which is available from NHM. Some of these flags are the eyewitness in some important historical events for the entire Albanian nation.
ICMC, has bought these national flags  by searching and tracking them everywhere and other flags were donated to her by membersof other family, by friends, and antique shops in various cities of Albania. All of these precious exhibits will be on this exhibition on November 28 at the National History Museum, an exhibition inviting all Albanians to touch the journey of their national symbol. In addition to red and black flags, other artifacts such as eagle engraving, embroidery with eagle, and other objects dating back to the 15th century will be presented in this exhibition. XVIII.
From the flags to be displayed in NHM, 45 are original and 5 others are reproductions that serve to complement the chronology of the flag image at different historical stages.
NCAC has organized many exhibitions over 40 such, within Albania, in ethnic Albanian inhabited areas like in Kosovo, Macedonia, Montenegro, but also outside Albanian territories such as Hungary and so on.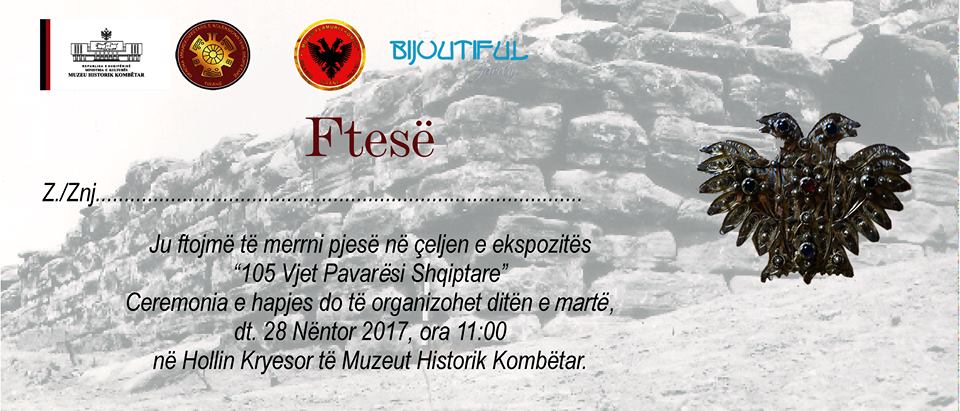 You may also like